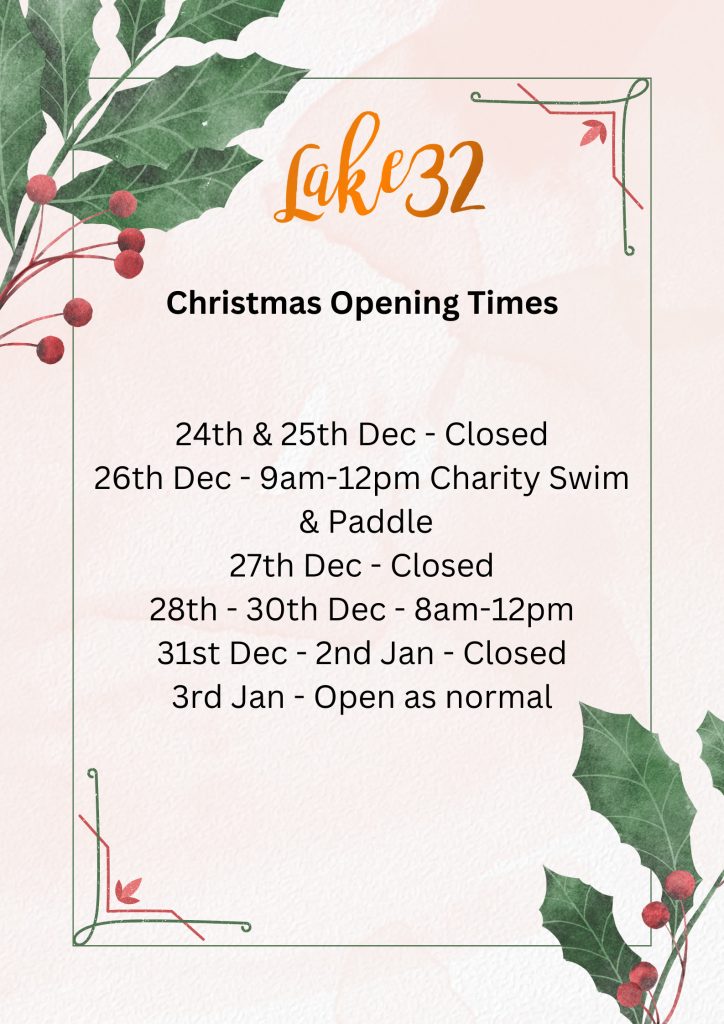 If at any time you require assistance, please carry out the following actions:
We swim anti-clockwise around each of our triangular swim courses, beginning and ending at the red, triangular HUUB buoy.
Each course includes the start buoy and……
50m – 2 x Round white buoys
100m – 2 x Triangular red buoys
200m – 2 x Triangular yellow buoys
400m – 2 x Triangular blue buoys
750m – 3 x Triangular, red HUUB buoys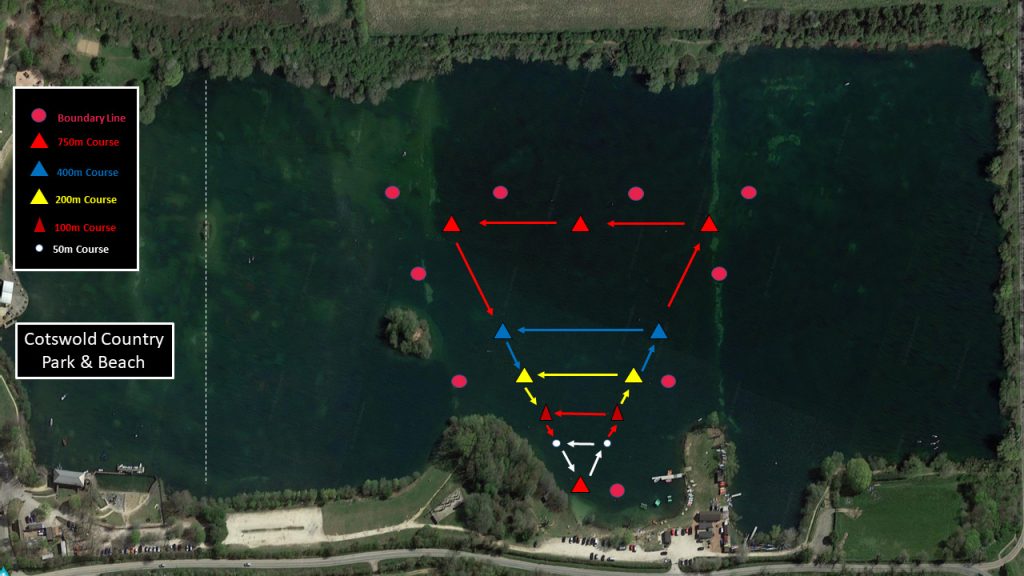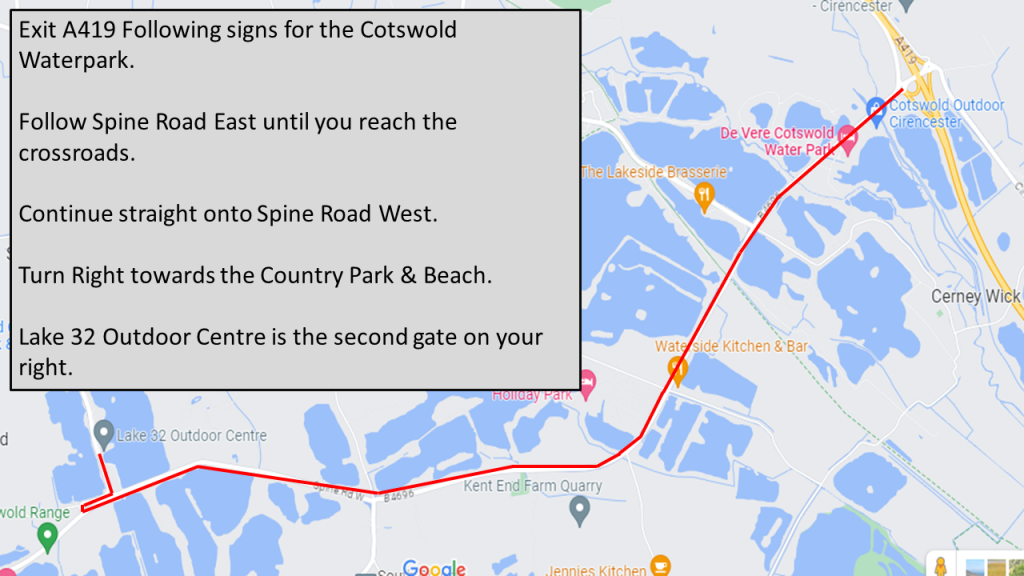 Lake 32 Outdoor Centre
Spratsgate Lane
Shorncote
Cirencester
GL7 6DF
April
Mon, Wed, Fri – 7am – 4pm
Tue, Thu, Sat & Sun – 8am – 5pm
May – Aug
Mon – Fri, 7am – 7pm
Sat & Sun, 8am – 5pm
Sep
Mon, Wed, Fri, 7am – 4pm
Tue, Thu, Sat & Sun, 8am – 5pm
Oct – Mar
Mon – Sun, 8am – 4pm
The water is closed for an hour each day to allow for site resetting and staff breaks, the site and cafe remain open during this time.
We offer a reduced service over the Christmas period for a short time, to give our staff a well deserved break.
We will restrict access sporadically through the summer months due to large sailing groups and Triathlon events, but we'll be ready to let you back on site as soon as we can.
Bookings are available 7 days in advance (this is from the specific hour, not just the day)
**All customers must book a session prior to their arrival on site. This is due to our car parking availability**
**Please arrive no more than 15mins prior to your booked session**
**Please be prepared to show your booking confirmation on arrival**
To take full advantage of the effortless booking system, please complete all the fields in the "My Account" section. This will enable the website to automatically fill in all of your details each time you book a session or purchase a product.
We do have limited parking on the main site so we may have to utilise our grass field at busy times.
We save 4 spaces on the main site for disabled visitors.
To avoid parking fines, please do not park in the fishermen's carpark. Please proceed to the grass field.
It is entirely up to each individual. You may choose to swim in either a swimming costume or a wetsuit. Should you choose a wetsuit and do not have one, you may hire one of ours at additional cost.
Please also bring warm clothes to change into after your swim. Showering in order to warm up is not advised, dry layers are a far superior remedy.
All swimmers need to wear a tow float when in the water to ensure that our safety team can see you. Swim hats are optional but recommended.
All customers may hire the following pieces of equipment at lake 32:
Tow floats – £7 each
Buoyancy Aids – £5 each
Wetsuits (for paddling) – £5 each
In addition to the above, members may email the office giving 72 hours notice to hire:
Paddle craft – SUP, Canoe, Kayak, Multi-SUP
**Office hours are Mon, Tue, Thu & Fri – 10am to 4pm**
Dogs are welcome at Lake 32.
They must be kept on a lead whilst on site.
Dogs may swim in the water from the fishing swims around the lake, not on site.
You must adhere to the following if you wish your dog to swim around the swim course with you:
The dog must be attached to you via a long floating lead
The dog must wear a buoyancy aid.
Children must be accompanied at all times whilst on site.
Please do not leave your children unsupervised while you swim / paddle.
The ideal session to start Open Water Swimming at Lake 32. Book in to meet with an experienced staff member who will give you an induction to Lake 32 and Open Water swimming, a chance for a dip/swim and a post swim hot drink. You do need to be able to swim already and will need to bring swimwear, towel and if your session is during the winter, plenty of loose warm layers for after your swim! We will loan you a tow float for this session but you will need to purchase one to swim with us in the future.
The water temperature is displayed on the website title bar, the board by the swim entry point and posted on our social media outlets.
Yes – If you wish to run/walk around the lake following your booked session, please obtain a wristband from the café.
Our café stocks a wide range of hot and cold food with vegetarian and vegan options, and our 'Brewbacca' coffee machine is on hand to provide you with gourmet espresso based coffees. There is soup of the day, cake of the day and a selection of hot and cold snacks and drinks.
We do have heated, male and female changing rooms with toilets and showers.
You may secure your belongings in your vehicle and leave the keys with the café staff for safe keeping.
Camping is only permitted during specific events.
Swim & craft areas are clearly marked with buoys, please ask a member of staff for clarification.
Inflatable SUPs are permitted. Inflatable Kayaks are permitted after we have carried out a safety inspection.